Presentation at the OPEN COMMONS_CONGRESS 2014
On 2014-05-21 Nikolaus Dürk presented OpenSecurity at the OC2014 congress in Linz, AT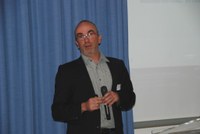 CC-by: City of Linz
For the third time, OPEN COMMONS_LINZ has organised a congress around current Open Commons topics. Nikolaus Dürk, CEO of X-Net Services, presented the OpenSecurity project in a talk (in German) with the title "OpenSecurity: an Open Source Security System for Sensitive, Citizen-Related Data in Public Administration".
The presentation (in German) can be downloaded here:
OPEN COMMONS_LINZ is an initiative of the city of Linz, which is committed to support and promote Open Commons (digital common properties). Its aim is to grow comprehension for Open Commons among the citizens, and to promote open, free, and transparent structures in the region of Linz. Fair use of cultural assets, conscious and self-determined handling with openness and closeness are central topics.
More information of the OPEN COMMONS_Congress 2014 (in German)